You have a blog.
You like money.
How can you make money from your blog?
There are a lot of ways to do this and I will not be covering them all. If you want to learn more about other ways to make money on your blog, Google it. and you will find a lot of options.
Here are a couple that I use:
Google AdSense
After having a blog for a while (usually 6 months) you can get a Google AdSense account. It's free and can be found under the "Earnings" tab.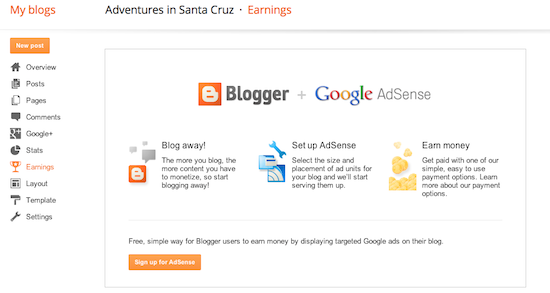 Once you sign up you can add adds to your blog. When people click on the links, you get money. The more people who read your blog the greater chance you have of making money.
Further information can be found here:
https://support.google.com/blogger/topic/1697709?hl=en&ref_topic=3339303
Amazon Associates
Similar to Google AdSense, except instead of getting paid for the clicks, you get money when people buy the item.
Further information can be found here:
https://affiliate-program.amazon.com/gp/associates/join/getstarted